I thought I'd give you guys a little look into my studio and some of my Items I keep around for inspiration.
My studio space is really important to me, I've always needed to create a space that feels inviting and intimate. I like to keep things around me that hold memories or I have some kind of interest or attraction to. I think sometimes I probably cross the border between collecting an hoarding but the majority of things in there are special.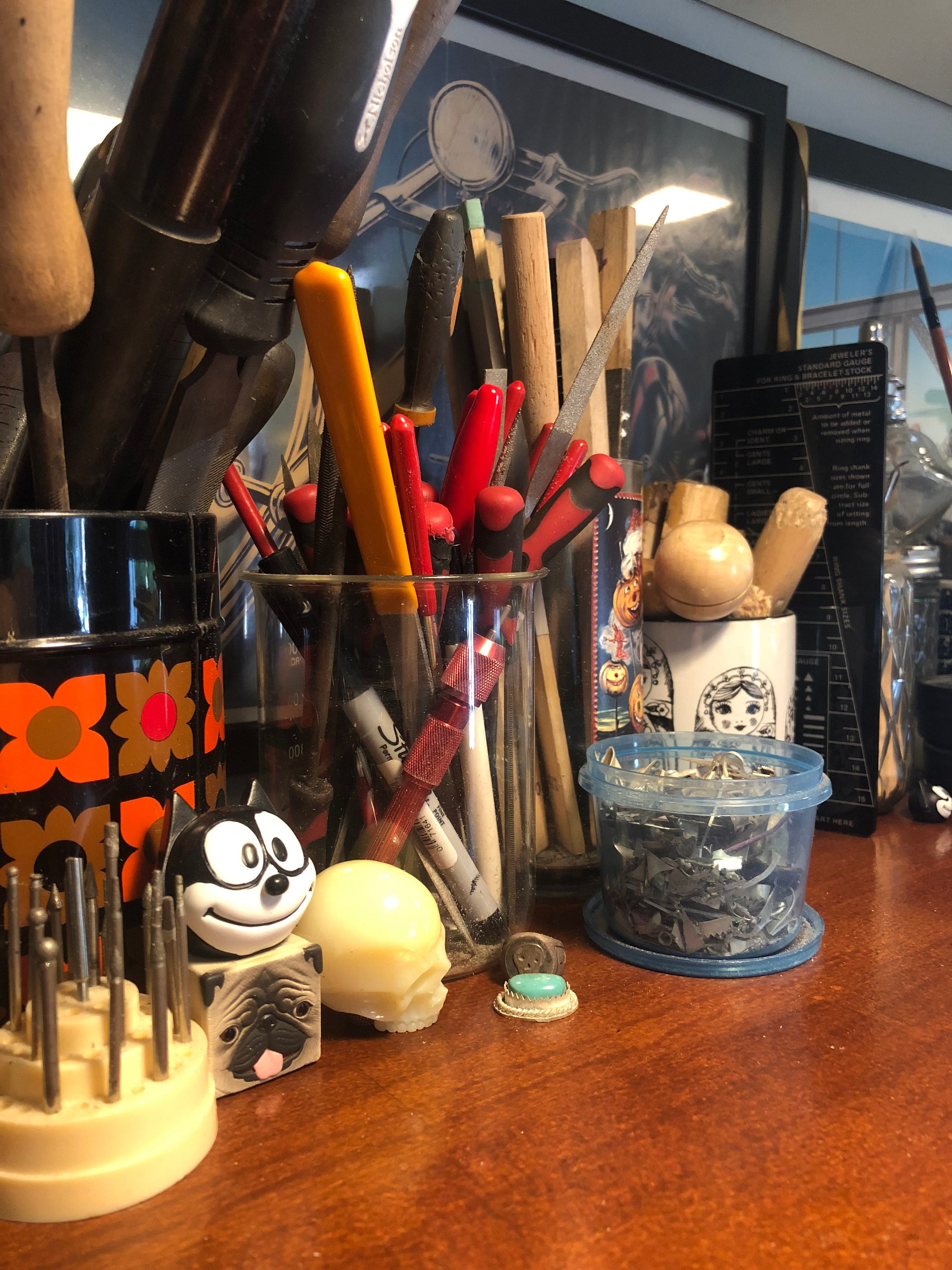 One of my favourite things is a square plastic pug I got from a vending machine in Japan. Sitting next to it is a skull shifter knob I was gifted in Japan by one of my favourite jewellers.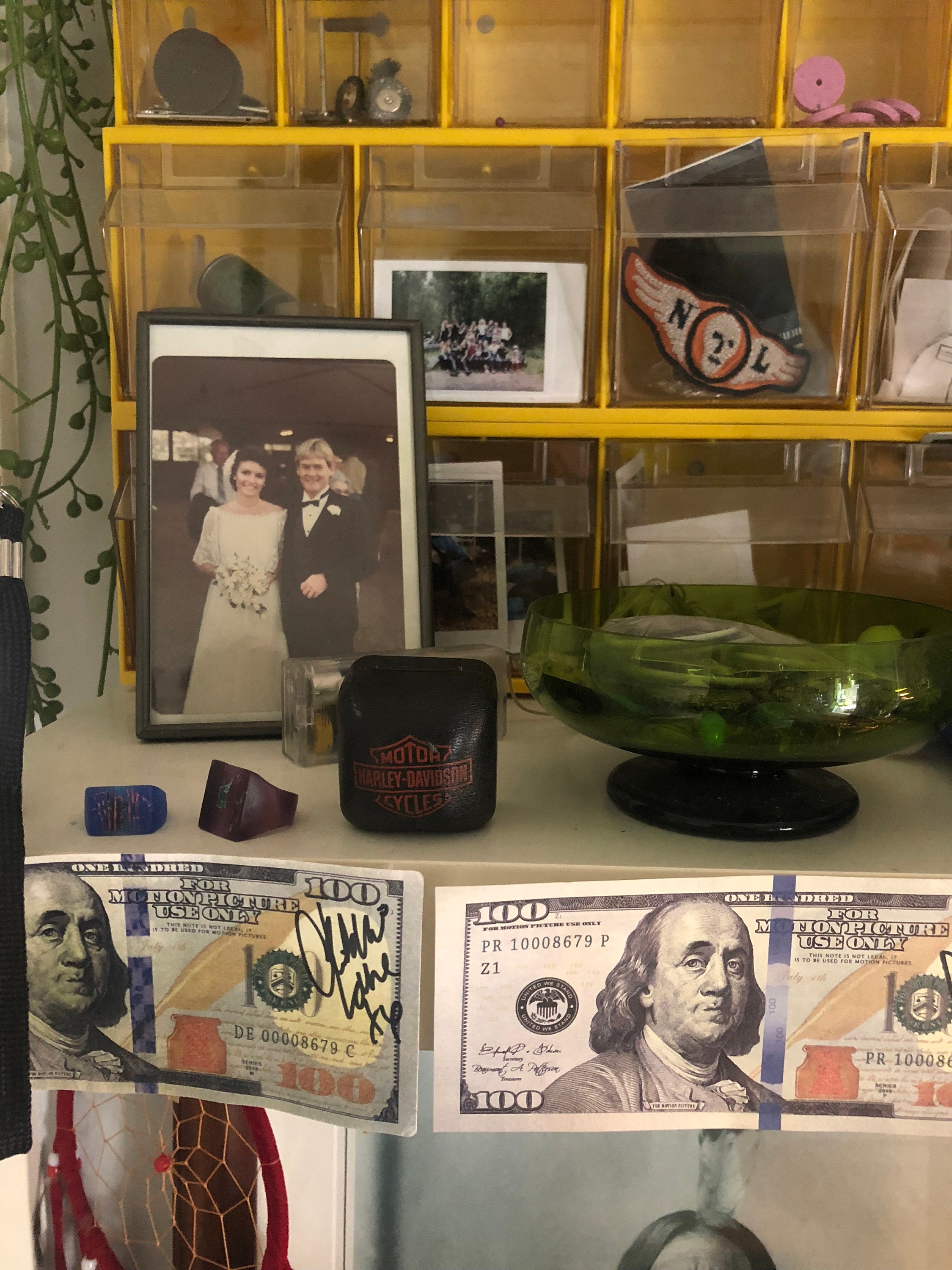 my shelves are mostly filled with junk, unorganised receipts and books but there are a couple pieces that I hold dear. A picture of my Mum and dad on their wedding day. A little Polaroid from the first girls motorcycle camp I organised in 2015. A 100 bill signed by Nikki lane from the jackpot filmclip.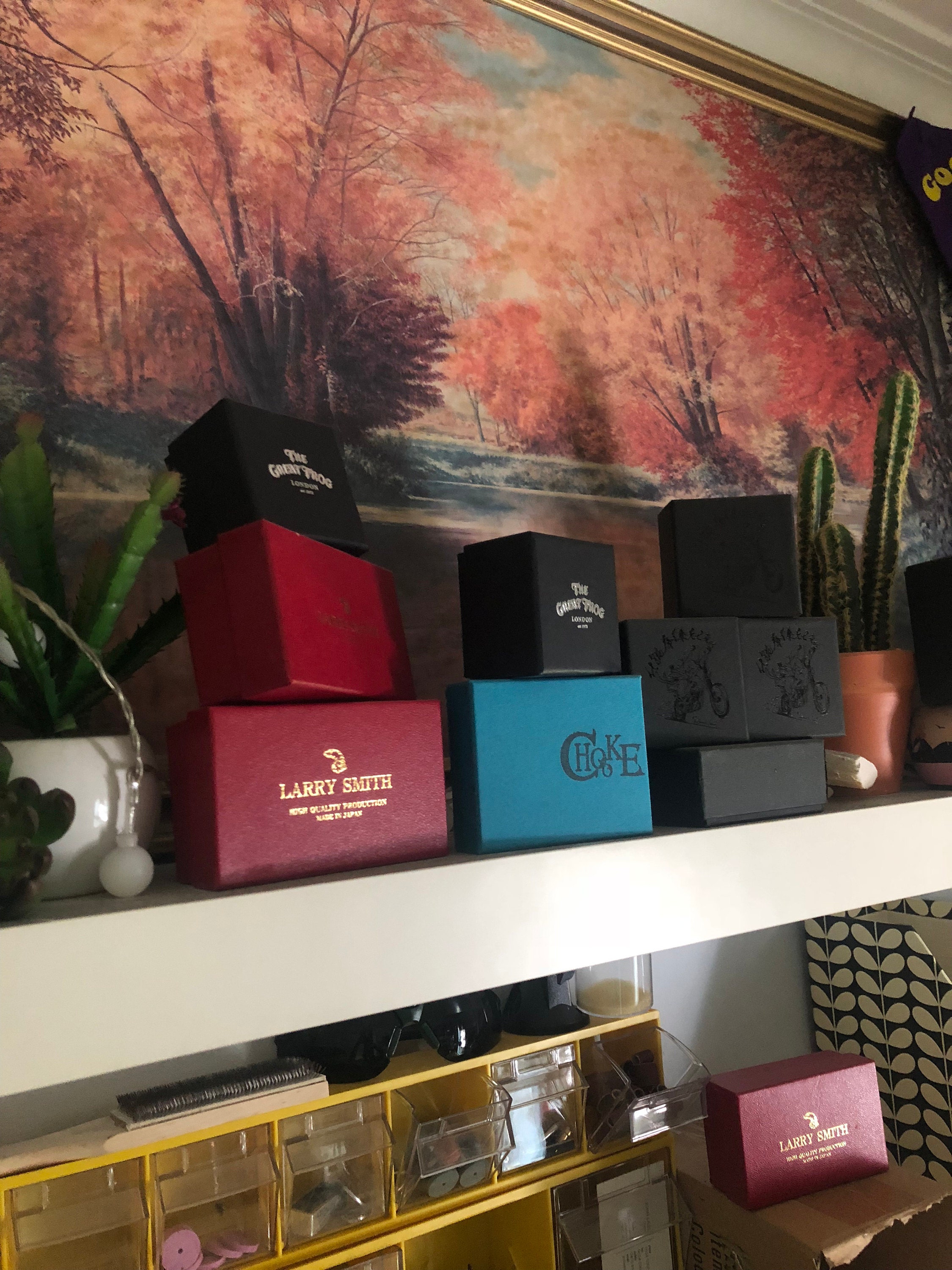 A collection of some jewellery Boxes from the pieces I've collected from my favourite jewellers.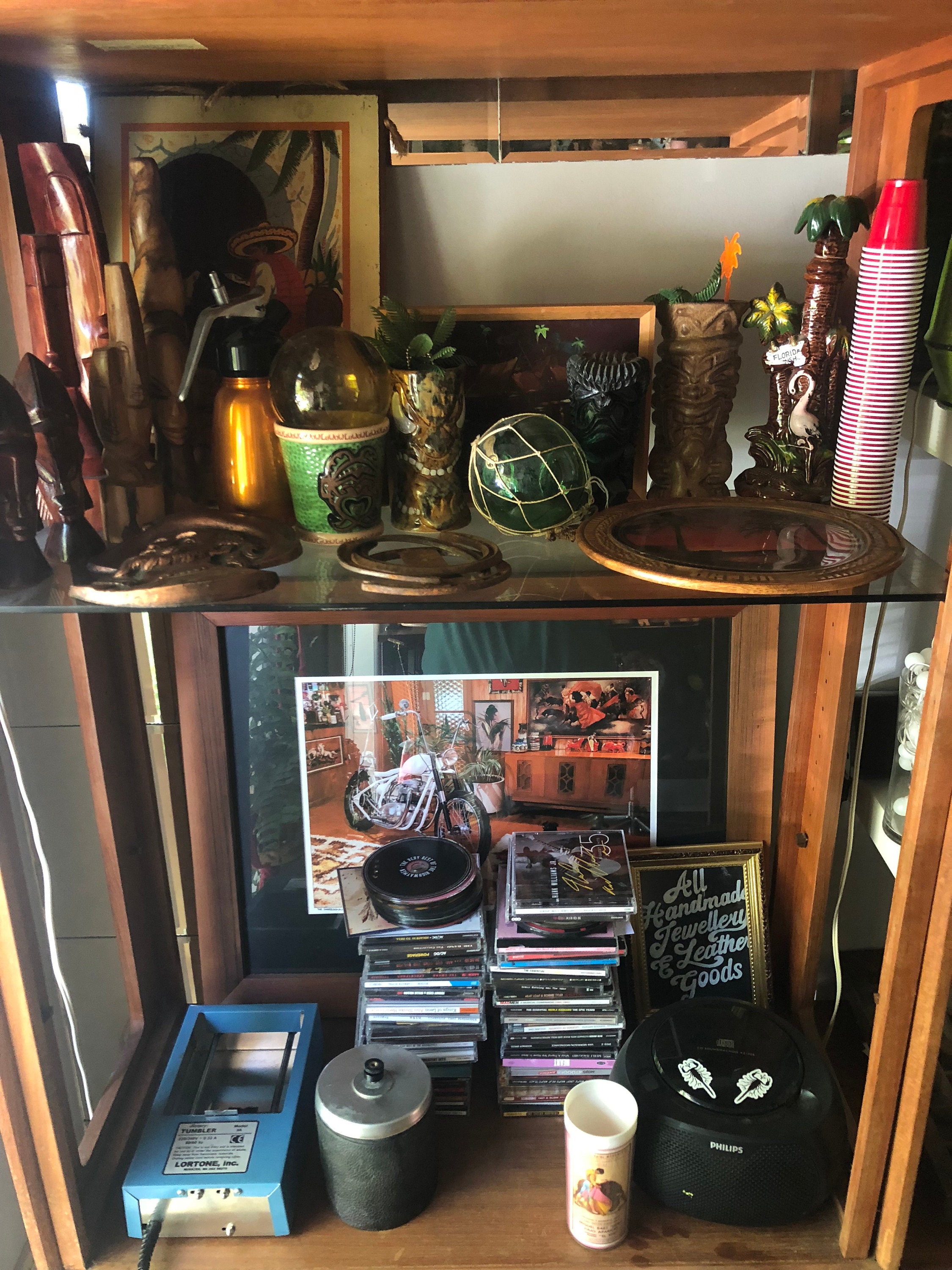 My music station. I mostly just listen to Heart on repeat with some country thrown in. The framed picture in the back is from my good friend Chris, it's of my old 1965 BSA A50 that my partner and I built, in our old house, the photos were in Dragon Wolf Press, a Australian  chopper magazine run by another good friend Nick, definitely check out the magazine it's a great read.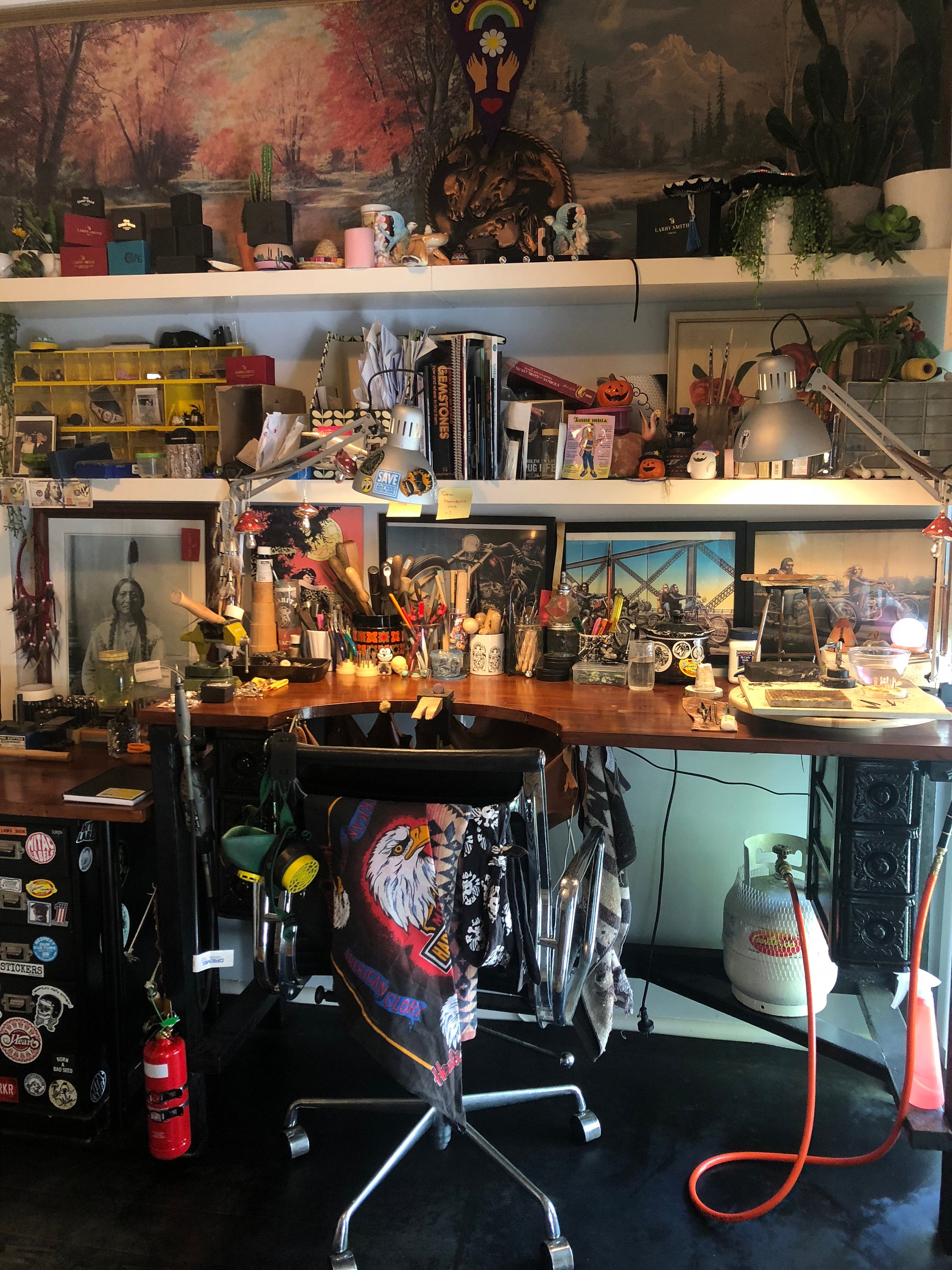 My studio is usually pretty messy the desk is always covered with tools, im not very Organised an sometimes it takes me 5 minuets to find things. I've never studied jewellery making, ive only ever learnt from trial and error and YouTube so my set up is very diy. My partner Mitch put this desk together for me which makes it very special, it's got old singer sewing draws which get abit stuck coz I put such a thick coat of paint on them but they have a lot of character. My space is ever evolving and I'm always adding to it. My next plan is to add another bench for stamping, I'm currently using an old wodden stool, and I'd really love a fume extractor.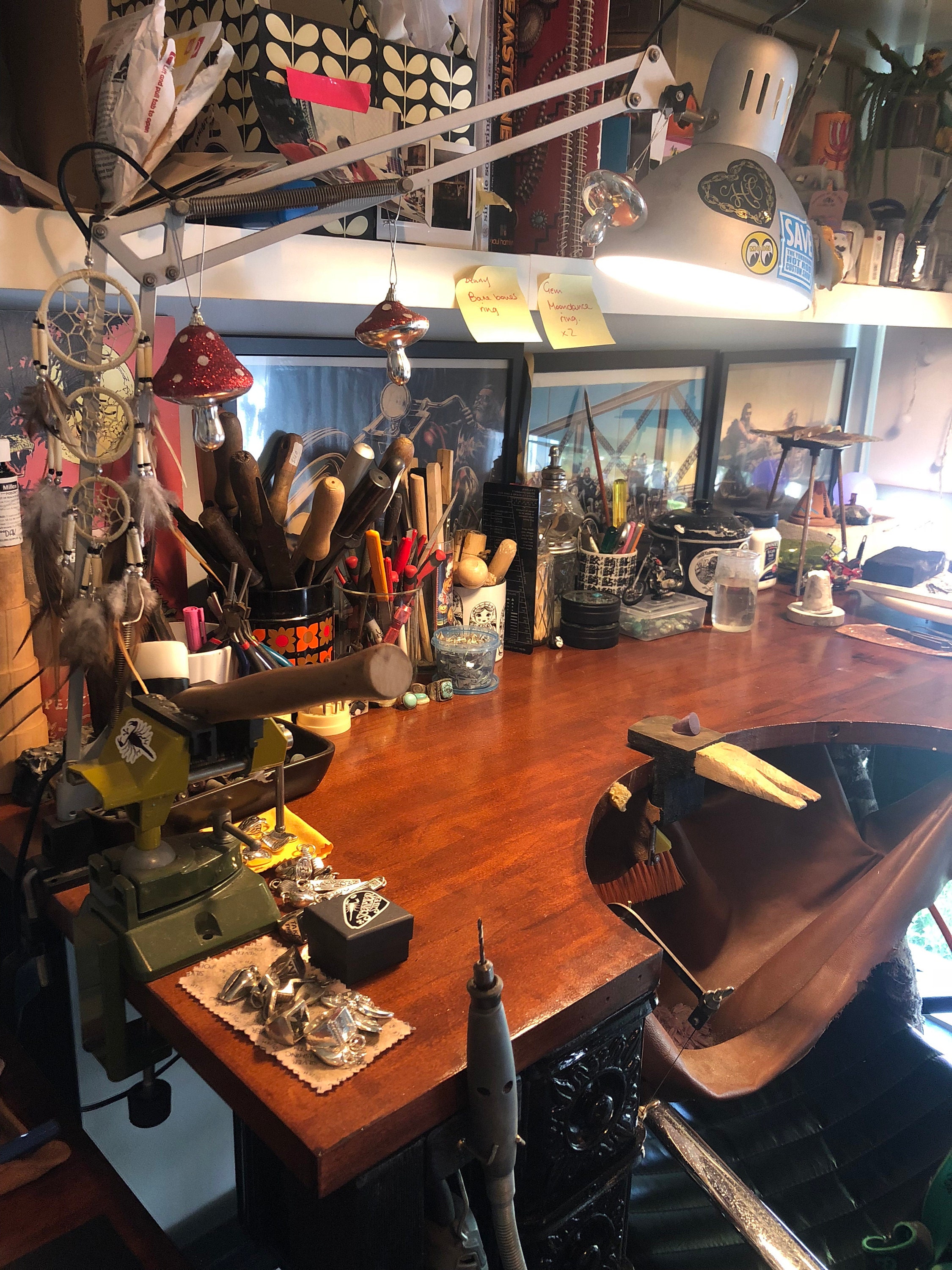 when I started making jewellery I never really intended it to be a busines, i really just wanted to learn how to make things. I found it hard to get the kind of jewellery I was interested in here in Australia so I decided to try an make some. i Started in 2015. I also make leather goods sometimes but my passion is more in jewellery. I also have a full time job, I've been a tattooer for 11 years, I find jewellery making a nice creative break from the world of tattooing, though my hands probably don't agree. 
Anyway thanks for reading, I have some new exciting things I've been working on an will be sharing them soon so stay tuned. 
Meighan
x